July 2009
VG-21 SQUADRON
MORRISEY/SHINN/VARGA
NEWSLETTER
ISSUE # 62
NEWS:
Pat and Lee Beery would like to announce that the "founding members" of the VG-21 Squadron have formed a membership chapter.
The "Golden Gate Chapter" (we had to have a chapter name) made up of Lee & Pat Beery, Len Peters, Janice Wild, Rolf Lehman, Alex Vucetich, and new member, Brian Tetreault.
The plan is to meet for a fly-in luncheon about once a month during the good weather. Each member is asked to take a turn at hosting a meeting and to select a location. Pat and Lee will forward any worthwhile news/information to Max for the VG-21 Newsletters.
Important Inspection Notice [July 2009]
During a recent inspection of a vertical stabilizer, Lee Beery discovered that the forward stabilizer spar had a broken in the web area at the bend near the intersection of the spar and the aft fuselage. The spar was still held together by splice plates on either side of the spar but the spar had some broken rivets at these splice plates and the fin would move about ½" by hand when a load was applied to the side of the fin. This aircraft is a Model 2180 with over 3000 hours and has a history of towing gliders.
Inspection of a Model 2150A with over 1800 hours revealed that it too had cracks in the same area, extending inward from the spar flange cut-out for about ½ ". There were no loose or broken rivets on this airplane and the fin did not move when pushed from side to side.
Inspection of another Model 2150A with unknown hours revealed cracks similar to the other Model 2150A…
Max Bishop was asked about this problem so he examined three vertical stabilizers available to him. The first stabilizer installation was from a crashed damaged Model 2150A with very few hours and it had no cracks.
The second inspection was of an uninstalled vertical fin from another crash damaged airplane with unknown hours. An initial exam indicated no cracks but there was paint overspray covering the bend area which made it hard to inspect. The paint was removed and a hairline crack was discovered radiating about ¼ " inboard from the bend relief radius on the right hand side of the spar.
Inspection of a third vertical stabilizer installation on an airplane with less than 1000 hours was not possible without removing the fin because the bend radius was so thoroughly painted with a thick coat of polyurethane overspray… Max will remove the stabilizer and examine its spar at the earliest opportunity.
There were no loose fin installations or rivets in any of the stabilizers that Max looked at…
There are currently some ongoing discussions of a solution or solutions to this problem and some re com mendations may be provided in the near future.
For now, it is very important that you have your trusted Aircraft Mechanic and/or Aircraft Inspector examine your vertical fin as soon as possible. Any movement of the fin when you push on it from the left or right or visible signs of loose rivets or other vertical stabilizer parts, would be a sign that the airplane should be immediately taken out of service. If a crack is severe enough, it may be visible with a flashlight by removing the rubber/plastic trim between the bottom of the fin and the aft fuselage.
If you have no physical movement, that is good but the next step, at the earliest opportunity, should be to have the inspection panel on the aft right side of the aft fuselage removed and the spar examined as closely as possible. If, as on the airplane that Max examined, paint overspray or the obstruction of the spar to skin attach clip makes a good examination impossible, it is re com mended that the vertical fin be removed for close inspection.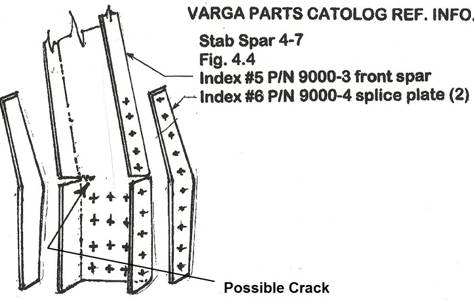 MEMBERS & OWNERS:
For those of you who don't know, I am the former Varga Aircraft Corporation engineering manager (1975-1982) and may be able to help you with a problem. I can be reached at:
Max Bishop
2062 West Gila Lane
Chandler , Arizona 85224
(480) 786-3578 (evenings)
(480) 201-6553 (cell)
You may also be able to find me at hanger RR2 at Falcon Field in Mesa , Arizona on most any Saturday.
VG-21 Membership: A $20 annual donation will cover all the printing and mailing costs for as many issues a year as I have time for and will help pay for return phone calls, letters and postage when you have questions or com ments that require a quick or personal response. Beery VG-21 Newsletters: $10 covers most of the printing and mailing costs for all the archived issues. Old Bishop VG-21 Newsletters are $2.00 each (includes postage).
LETTERS & EMAILS
From: Alex Hasapis
Sent: Friday, July 17, 2009 12:55 PM
Max,
As I mentioned on the phone 62J is history and I'm looking for another one. I did some research on Brian's from its history in this region and it was not clear enough for me to go any further. I'm past the point of a project since we did one on my bird last year. It was an education and rewarding but the old bones aren't up to it now. If you hear of any let me know. Thanks again.
Alex
What to do about springs?
From: Roger A. Smith
Sent: Monday, August 11, 2008 11:30 AM
Subject: N8289J
Dear Mr. Bishop:
I am the new owner of N8289J as I have just acquired the
aircraft from Mike Heiring in Houston . The aircraft now lives in Santa
Ynez , CA at IZA. I love the airplane, however it has erratic fuel
guages and they cannot be relied upon for accurate quantities. I am
hoping to seek guidance as to whether or not cleaning the senders may
help to correct the problem. Additionally, if a thorough cleaning and
resistance checking of the sender leads to the guages is unsuccessful,
if they can be replaced.
Stan Peternel flew the plane home for me from Houston
and is very familiar with the aircraft type.
Happy trails.....
"Wolf"
From: Bishop, Max
To: Roger A. Smith
Sent: Monday, August 11, 2008 12:21 PM
Subject: RE: N8289J
Roger,
Welcome to the Varga world... ;-)
I don't think you'll be able to find replacement senders
unless you are willing and/or able to make a large quantity order to
Rochester Gauges, the original vendor.
The following web pages should help you decide what to
do and how.
http://vg21squadron.com/maint/maintain_17.htm
After you review them, let me know if you have questions
and I'll try to answer them...
Happy flyin'
Max
From: Roger A. Smith
Sent: Wednesday, August 20, 2008 2:15 PM
Subject: Re: N8289J
Max:
When I went to the vg21 Squadron site, I was excited to see that
I might be able to buy new nose wheel steering springs from the Century
spring folks. This is the response I got back from the folks listed on
the VG-21 website when asking for #56 nose wheel steering springs:
Century Spring Manufacturing Com pany, Inc.
454 Middle Street
P.O. Box 301
Bristol , CT 06010
Toll free phone: 1-800-9-SPRING or 1 (800) 977-7464
In Connecticut :(860) 582-3344
Fax:(860) 582-7536
Roger,
Good Morning,
This part number that you are referencing is a Century Spring
Corp of Los Angeles, CA part number. We are Century Spring Mfg of
Bristol, CT
We are not affiliated with them.
We are a custom manufacturer and they are a catalog reseller.
You can find information on this stock part by accessing their website
http://www.centuryspring.com or, by calling them at 1-800-237-5225.
I then went to the LA company's website and they do not list the
#56 steering springs, or the nose wheel spring for the 2150A that I
hoped to obtain.
Are you aware of a current source for the nose wheel, main gear,
and steering springs for the 2150A? This airplane is almost restored
to "new" and I would like to take care of the last few things lacking to
make the airplane nearly "factory perfect". Any guidance you could
offer would be appreciated.
Happy trails.....
"Wolf"
From: Bishop, Max
Sent: Wednesday, August 20, 2008 2:59 PM
To: Roger A. Smith
Subject: RE: N8289J
Roger,
Sorry for the confusion. I will replace the Century Spring link
on the web page with the correct one.
I did a search of the Century Spring on-line catalog and the
D-108 and D-125 die springs are there. The standard D-125 spring is 36"
long so you have to ask to have them cut to 10", and closed and ground,
as noted on the web site.
http://www.centuryspring.com/pdfs/312-320.pdf
While at work, it was taking too long for me to search for it
but I'm sure that the #56 compression spring is there as well. It may
be best to call Century and ask for help.
Let me know if you still have problems and I'll try to help...
Happy flyin'
Max
From: Roger Smith
Sent: Wednesday, August 20, 2008 3:09 PM
Subject: RE: N8289J
Max:
Sorry, I still need guidance.
I did a search of the Century Spring on-line catalog and the
D-108 and D-125 die springs are there. The standard D-125 spring is 36"
long so you have to ask to have them cut to 10", and closed and ground,
as noted on the web site.
You mention D-108 and D-125 springs. Can you please tell me
which one is for which purpose? (which are the ones that need to be 10"
long?) I will need a new nose gear spring shortly, and the steering
springs would be good to replace ASAP. So it would help me to order if
I knew which one a "D-108" happened to be.
I just read your latest news letter. Nice work. Thanks for
continuing to help we owners with needed guidance to maintain a great
plane.
Roger "Wolf" Smith
From: Bishop, Max
To: Roger Smith
Sent: Wednesday, August 20, 2008 4:11 PM
Subject: RE: N8289J
Do you have a Varga Parts catalog? It would be easier to
explain if you did... ;-)
Max
From: Roger A. Smith
Sent: Thursday, August 21, 2008 11:42 AM
Subject: Re: N8289J
Max:
What ever guidance you can offer would be greatly appreciated:
Figure 8.5
Index 21 #56 Century is used on Varga 2150A... Stiffer #10 Century
was used on Varga 2180 only due to heavier engine
Figure 3.1
Index 7 12000-47 is D-108 used on Varga 2150A nose gear
Figure 3.2
Index 7 30195-47 is D-108 used on Varga 2180
Index 53 30195-106 is D-125 used on Varga 2180 nose gear for
heavier engine and longer prop and not on Varga 2150A nose gear.
These are the Index numbers and the nomenclature that I get from the
Parts Manual which does not call out their sizes. That's why the D-108
and D-125 call outs "threw me a curve".
Happy trails.....
"Wolf"
From: Bishop, Max
Sent: Thursday, August 21, 2008 12:14 PM
To: Roger A. Smith
Subject: RE: N8289J
Roger,
Varga had to modify some of the springs after getting them from the
vendor (slight grinding for fit on the D-108 & D-125). The changes
required that they be provided Varga part numbers.
...
Max
From: Roger Smith
Sent: Monday, April 20, 2009 3:18 PM
Subject: RE: N8289J
Max:
Fully realizing that this is an old e-mail, I've just gotten to a place
that we can install the new springs that I got from Century. I must
tell you that whatever the "original" mod was to the springs must still
need to be done, but I don't think what is required is possible. The
long and short of it is that the nose wheel steering springs are of too
great an interior diameter to be "stopped" by the washer that goes on
the rod. The springs that are "stock" have "tapered" ends which the
current Century springs do not. I really wanted to change out the
original springs, but unless Century has another product which has
tapered ends on the spring the Century #56 product won't work.
As always, the help you render to we Varga owners is greatly
appreciated.
Roger Smith
N8289J
From: Bishop, Max
Sent: Tuesday, April 21, 2009 9:23 AM
To: Roger A. Smith;
Subject: RE: N8289J
No mod is required for the steering springs, only the gear springs. The
#56 spring should have reduced diameter ends and should fit well. It
could be that the spring numbers for the 2180 & 2150A are mixed up in
the catalog. If you want to do the search, the following link to the
catalog should include the specs for the spring you need.
http://www.centuryspring.com/pdfs/12-229.pdf
I will measure a spring tonight and check the catalog again to find out
if the #56 is the right part number.
Max Bishop
From: Roger Smith
Sent: Tuesday, April 21, 2009 9:30 AM
Subject: RE: N8289J
Max:
The #56 spring that Century sends has a constant interior diameter and
has a bit of grinding on both ends to make the spring end "flat" prior
to what ever plating process they use. It has an ID of approx. 1/2".
The spring we took off of the steering torque tube assembly has a
"little piggie" curly-que reduced size end on it.
(So it is closer to the OD of the rod around which it goes)
I can take a photo for you easily of both parts if that would be interesting.
Roger
From: Bishop, Max
Sent: Tuesday, April 21, 2009 10:06 AM
To: Roger Smith
Subject: RE: N8289J
I have some of the correct steering springs and don't need a picture.
The 2180 had a heavier engine and used a higher rate constant diameter
spring. There may be a Varga Parts Catalog mix up and it may be that you
need a #10 spring instead. It will take me some time to look and I am at
work now... I will check when I get home or if I can find some free
time...
Max Bishop
From: Roger Smith
Sent: Tuesday, April 21, 2009 3:04 PM
Subject: RE: N8289J
Thanks. Please let me know what you discover.
Roger
Roger,
The Century Spring catalog #56 spring specs are correct except for the ends being wound down to a 5/16" ID...
I don't know if the spring catalog is changed or if Varga had the #56 springs specially modified.
I'm sure Century would be happy to make or modify springs that fit but I don't know what a custom order like that would cost. You could send them a picture of your spring and ask though...
The #56 spring is supposed to be 3" long. I have 4 used steering springs one of which measures 3" and the other 3 are collapsed a bit and measure between 5/16" and 3/8" short.
I suggest if yours are collapsed no more than that, unless your springs are damaged or broken, that you make spacers or add washers of the appropriate thickness to bring the spring assembly back to its' 3" length. The spring rate should remain close to the same and they should work fine that way.
Let me know if you need any more info and I'll see what I can do...
Happy flyin'
Max
PLANES & PARTS:
Max Bishop
VARGAS FOR SALE
1979 2150A Varga For Sale - $47,500
1371 TTSN, Garmin GNC 250XL GPS NAV/COM, King KX 170B, Narco AT 150
TSO w/Mode C, King GMA 20TSO Audio Panel, OBS VOR Localizer-
Glideslope, Inter com , Circuit Breakers, New Vacuum Pump, New
Leather Upholstery & Carpets 2005, New Battery , Custom Cover,
Maintenance Manual, Glass 8, Exterior 8, Interior 8, Annual May 2008,
Hangared at Calaveras County Airport , California .
John Wade 209-728-2474
From: ma5charg@bellsouth.net
Sent: Monday, December 01, 2008 12:32 PM
To: mbishop5@cox.net
Subject: Varga SN# 92-78
Dear Mr. Bishop ,

My dad, Harry Jones passed away in June. I am sure you remember talking to him on a number of occasions.
He often spoke highly of you and was always appreciative of your advice. He also really loved his Varga and enjoyed it as much as anyone could have.
We are thinking of selling it but want it to go to a person or persons that want a Varga and not someone that just wants to turn it for profit. I see there is a group that has a Varga fly-in in Texas . Maybe someone from that group would be a good candidate. Any help you could be in advising us on how to go about this would be appreciated.
Dad advertised on Barnstormers a while back but only three percent of callers even knew what a Varga was.
My daytime phone is: 1-800-824-1646 ext248. My after hours # is 601-622-0058.
Thank you again,
Keith Jones
Now available is this 1975 Varga 2150A Kachina, a beautiful, low time, modern classic. This is the third Varga built, VAC-52. Aircraft has 1228 hours total time since new. Lycoming O-320-A2C has 540 hours since major overhaul. All AD's done. Annual just completed, and not due until end of June 2010. Oil analysis taken regularly. Oil changed every 25 hours. Filter changed every 50 hours. New polyurethane paint in the form of an accurate T-34 paint scheme. Original 9/10 interior. Vintage 1975 panel with the addition of an Apollo GPS, Narco transponder and encoder, one com radio, one com/nav/VOR, four position EGT, voltmeter, clock, and intercom. All compressions 79 or higher. All logs back to 1975. All factory manuals plus binders full of everything you wanted to know about Vargas. Flies great, 130mph cruise, easy to fly. Asking price $37,500.
It is also on Ebay as Item #330337859632.
Brian Chersky
cherskyaircrafters@verizon.net
Flaps:
Michael Bellamy (Shinn N5142V SP38) had cracked inboard flap hinges and he needed a replacement. I was out of NAS40-10 Hinge stock so I suggested the Internet source where I last got a 6 foot piece of whole hinge. They were out so he substituted a piece of MS20001 hinge, which is fine but, since it has it's nodes at 1/2" instead of 5/8" pitch, using it requires that you change both the wing and flap halves.
Ailerons:
Shortly after Michael asked about flap hinges he wrote again to report that he'd had some right aileron damage and needed a new skin. I had a new skin left from four that I had made several years ago and offered it to him.
12-24 Screws for Landing Gear Hydraulic Fluid and Lubrication holes:
I have 3 boxes of the 12-24 screws that are used to plug the 2 filler holes at the top of each landing gear. 12-24 screws are an oddball size so, if you need and can't find any of these screws, let me know how many and I'll send them.
Stabilizer Bushings:
Based on the 14 requests I got (some for 2 sets each), I felt safe in ordering at least 25 ship-sets (10 each) of stabilizer bushings. So far, I've gotten 7 orders and still have more than 18 ship-sets of bushings left if you need them…
Aileron & Flap Hinge:
After heard from Michael Bellamy about his hinge problem, I was curious to know if there was more NAS40 hinge available and was pleased to find a vendor who had it. I ended up buying a couple of 6' lengths. At about a buck an inch for just half a hinge with a pin, it cost about twice as much as I last paid for it but I do have some available if you need it.
Varga Stuff:
http://www.lasergraphicsbygreg.com/Key_Chain/key_chain.html
http://www.lasergraphicsbygreg.com/Stamps/stamps.html
NEW MEMBERS:
Paul Robertson N4630V
Brian Tetreault N1901A
PERSONAL NOTES:
Max Bishop
I will continue provide the VG21 Newsletter on the web site and will expand and improve it as time and circumstances permit. Those members who request it will receive a hard copy.
Please don't hesitate to provide suggestions for subject, content or format changes or corrections to this web site or the newsletter at any time. Questions and com ments about Vargas are always wel com e...
maxbishop@gowebay.com or mbishop5@cox.net