JULY 2008

VG-21 SQUADRON

MORRISEY/SHINN/VARGA

NEWSLETTER

ISSUE # 60

NEWS:

It's been a few years since I wrote my last newsletter and, after reviewing Pat and Lee's mailing list, I can see that there are enough new members that it might be good to reintroduce myself.

My name is Max Bishop and, as some of you may know, I worked for Varga Aircraft for seven years and was Varga Aircraft's Engineering Manager when they closed in June of 1982. After Varga closed, I worked as a Product and Project Engineer for a laminated glass and mirror manufacturer here in Chandler , Arizona . In December of 1984 I went to work in the flight simulation department at McDonnell Douglas Helicopter Systems in Mesa Arizona . For most of my time there, I was responsible for the design of simulator cockpits and related equipment.

In December of 1987, I went to work for Montanair to build a new Varga prototype that they called the Montanair "Spirit". I returned to my job at McDonnell Douglas (now Boeing) in January of 1989 where I still work. I am currently a Facility Manager but hope to begin my next career as a professional Airport Bum when I retire early next year.

My own experimental Varga (a 160HP taildragger with a bubble canopy), which I built from parts I got from Varga Aircraft in 1986, was built and first flown the day after Christmas in 1989.

Most every Saturday, you can find me in hangar RR-2 at Falcon Field in Mesa working on another experimental Varga that I started almost 10 years ago or some other project. If you visit Falcon Field on a week day, just call me on my cell phone at (480) 201-6553 and, if I can get away from work, I can be at my hangar in about 15 minutes.

When I took over from Pat and Lee, my first newsletter (#21) was published in January of 1995. My last VG21 newsletter, issue #47, was published in June of 2002. Issue #47 is index of all of the previous Varga newsletters that I had copies of at that time.

Fortunately, for all of us, Pat and Lee Beery took over again and published issue #48 in May of 2004 and their last was issue #59 published in January of 2008. That was several months ago so it's time to catch up...

VARGAS FOR SALE

Mike McNally has his Model 2180 for sale. This is the first certified 180hp Varga. Here are the details:

1977 VARGA 2180

$55,000.00 - (602) 315-4388

Fresh Annual 4/08 - Ly com ing O-360 180 hp, excellent rate of climb, 9

GPH, new glass, custom camo P-40 paint scheme, harnesses and interior

2007 - Fighter sticks, canopy modification, panel mount Garmin 296

with current data base, Apollo SL40 com m, Narco 122 VOR/LOC/GS/Marker,

Becker 250 watt transponder - Com pression 78/80, 79/80, 77/80, 79/80

TT 3328 - SMOH 1472 - SPOH 105 STANDARD CATEGORY - GREAT FOR TRAINING AND

SHOW

---------------------------------------------------------------------------------------------------------------------------------­­­­--------

TRADE-A-PLANE, SECOND MAY ISSUE 2008 :

1977 Varga "LOW COST T-34", 2016TT, 320 SMOH, SL60 Com /GPS w/moving map, Nav 12 w/GS,

Txp & encoder MBR, EI engine analyzer, strobes, inter com + other mods. Always hangared. $44,500.

Bob Lucas OH(419) 833-1505.

MEMBERS & OWNERS:

For those of you who don't know, I am the former Varga Aircraft Corporation engineering manager (1975-1982) and may be able to help you with a problem. I can be reached at:

Max Bishop

2062 West Gila Lane

Chandler , Arizona 85224

(480) 786-3578 (evenings)

(480) 201-6553 (cell)

mbishop5@cox.net

You may also be able to find me at hanger RR2 at Falcon Field in Mesa , Arizona on most any Saturday.

VG-21 Membership: A $20 annual donation will cover all the printing and mailing costs for at least four issues a year and will help pay for return phone calls, letters and postage when you have questions or com ments that require a quick or personal response. Beery VG-21 Newsletters: $10 covers most of the printing and mailing costs for all the archived issues. Old Bishop VG-21 Newsletters are $2.00 each (includes postage).

EVENTS:

Click on the following link for photos of the Texas Fly-In...

http://www.vinylgraphicsbygreg.com/Texas_Varga_Fly-In/texas_varga_fly-in.html

[Please let me know of any Varga events you have anywhere and I will include them in a newsletter and/or send and invitation out to all on the VG-21 email list]

PLANES & PARTS:

Vendors / Parts / Service / Tools

I don't remember who sent them to me now but I have 3 boxes of the 12-24 screws that are used to plug the 2 filler holes at the top of each landing gear. 12-24 screws are an oddball size so, if you need and can't find any of these screws, let me know how many and I'll send them.

Letters and Emails:

From: kissgabor
Sent: Thursday, December 27, 2007 1:34 PM
To: maxbishop@gowebway. com
Subject: Needed information concerning Varga Kachina_2180

Needed information concerning Varga Kachina_2180

Dear Mr. Bishop

I'm in the evaluation phase of buying a nice 81_2180

in Switzerland . ( europe )

The newsletters published in your internet site are extremely

helpful for evaluating the history and technical background

on the kachinas.

What I would need are reliable data listings concerning

the performance of an 81_2180.

(i.e. Vno 75% / 65% on different flight level_with adequate

indication of fuel consumption)

As I have seen on your website there are newsletters available

from Jesse Ranney. The issues No.1 / July 86 - No.13 / May 87

They would be very helpful concerning the questions mentioned above.

Would it be possible for you, to send me the newsletters, even in

.jpg or .pdf format? - Again; the information provided would be

extremely

helpful for evaluating the pre-purchase basics.

Thank you in advance for your help and input

Gabor Kiss

switzerland

From: Max Bishop [mailto: maxbishop@gowebway. com ]
Sent: Saturday, December 29, 2007 9:43 PM
To: 'kissgabor'
Subject: RE: Needed information concerning Varga Kachina_2180

Dear Gabor,

Varga Aircraft never did the kind of flight testing required to get the speed data that you are requesting so it is not available.

Regarding the Jesse Ranney newsletters, I think I returned those that I had to Lee Beery when he took over the VG21 newsletters again a couple of years ago.

You can contact them with your request at <lpbeery@mchsi.com> or at their home address.

Lee & Pat Beery

VG-21 Squadron

3450 Shoreline View Way

Kelseyville, CA. 95451

Otherwise, I will be doing the newsletter again next year and after VG21 data is returned to me, I may be able to help you more then.

Good luck with your purchase and should you decide to do that, I don't think you'll be disappointed.

Happy flying,

Max

From: Frank Beyer
Sent: Thursday, May 29, 2008 6:34 PM
To: 'Pat & Lee Beery'
Cc: ' Bishop , Max'
Subject: Fuel Strainer/ Gasolator

I'm in need of a replacement Fuel Strainer, Edo-Aire, G199-105. Varga # 30145-39- any Idea where I could find one?

The casting at the bolt hole mount broke.

Regards,

Frank Beyer

MINK Associates Inc - Wichita Office

15609 Hendryx St

Goddard , KS 67052 -5202

Phone: 316-729-7500

Fax: 316-729-7509
Frank,

I don't know if anybody is now selling this former Edo-Aire part?

Max
From: Bill Merkin

Sent: Tuesday, May 27, 2008 1:28 PM
To: mbishop5@cox.net
Subject: Varga Voltage Regulator/Over Voltage Relay

Hi Max

What do you re com mend for the above as replacements in the Varga. My alternator keeps dropping of line. Don't know yet if it is the regulator or the over voltage relay.

Bill Merkin

From: Max Bishop [mailto:mbishop5@cox.net]
Sent: Tuesday, May 27, 2008 7:47 PM
To: Bill Merkin
Subject: RE: Varga Voltage Regulator/Over Voltage Relay

Bill,

This is a nagging problem that even affected new airplanes. It could be either the over voltage relay, regulator or the alternator. At the factory, we sometimes had to swap out all three. Changing the alternator always worked. Prestolite wouldn't hesitate to replace the parts for free but they were never able to offer a solution.

I bought an aftermarket alternator (my plane's an experimental) and, other than a loose wire a few years back that I was partly responsible for, haven't had a lick of trouble.

I think some Pipers have the same Prestolite system. You might call a Piper shop and see what they say…

Sorry I couldn't be more helpful ;-(

Max

______________________________________________________________________________________________

From:

Janet Miller
Sent: Tuesday, May 20, 2008 10:07 AM
To: Max Bishop ; Pat & Lee Beery; Greg Judy
Subject: need info on Varga

We have N5086V Varga 2150. Need to replace "O" Rings in shimmy dampener. How do you get it apart or where to get a new one?

If you have any info please contact Danny Miller at […]

We were so disappointed we missed the Texas Fly In. Glad you had a good turnout.

Janet Miller

From: Max Bishop [mailto: maxbishop@gowebway. com ]
Sent: Tuesday, May 20, 2008 8:28 PM
To: ' Janet Miller '
Subject: RE: need info on Varga

There are no Varga shimmy dampeners available that I know of. Don't take yours apart. It is pressed together and can't easily be reassembled.

Follow the instructions in Maintenance Item 15. This method of repair has worked for me several times.

Good luck,

Max

From: Pat & Lee Beery

Sent: Saturday, April 05, 2008 6:35 PM

To: [VG-21]

Subject: Varga Battery Solenoid

Looking for some help. The battery solenoid on our Varga had be com e

intermittent and stupidly, I started the replacement process before I

found a source for the solenoid. The illustrated parts catalog lists

this solenoid as an Essex 70-111224-5. Unfortunately I have not been

able to cross reference this part number to a current replacement

part. If anyone has knowledge of a replacement part, please let me

know.

Thanks, Lee Beery
From: Tom Herr

Sent: Saturday, April 05, 2008 9:51 PM

To: Max Bishop

Subject: Re: Varga Battery Solenoid

Hi Max,

Do a Google search for 70-111224-5

Lots of results ... just not from A/C suppliers.

I wouldn't have a problem using these but wanted to know what you think.

Tom Herr


From: Max Bishop

Sent: Saturday, April 05, 2008 9:36 PM
To: 'Tom Herr'

Cc: 'Beery Pat & Lee'
Subject: RE: Varga Battery Solenoid

Hi Tom,

Thanks much for the tip...

I did a Google search quite awhile back but must have had my hyphens wrong or somethin' and didn't do as well as I did this time ;-)

Varga bought directly from Essex as an OEM and since most of those I found with a Google search are listed as Essex parts, I'm sure they're all good...

Thanks again for the help...

Max..
_______________________________________________________________________________________________________
From: Mark & MC
Sent: Monday, February 04, 2008 5:10 PM
To: maxbishop@gowebway. com
Subject: Shinn/Varga Landing Gear Springs
Do you have any additional sources for Landing Gear Springs for a 2150A? I tried contacting Century Spring in Connecticut and they advise that they referred me to Century Spring in California who I have not been able to get a response from.
I think our main gear springs are a bit tired so we're looking to replace them. Additionally, are the main gear and nose gear springs interchangeable? I thought read in one of the older newsletters that the 2180 used main gear springs in the nose gear to handle the additional weight of the 0-360? We are operating the Shinn out of a grass strip and were considering trying a bit stiffer springs in the nose gear to get a bit of extra prop clearance. Do you know if anyone else has tried this?
Regards,
Mark Oliver
Morrisey Shinn 2150A C-FIIZ (Formerly N431MB)
Serial # SP-17
From: Max Bishop [mailto: maxbishop@gowebway. com ]
Sent: Tuesday, February 05, 2008 9:25 PM
To: 'Mark & MC'
Subject: RE: Shinn/Varga Landing Gear Springs
You should be able to find the springs at the address below…
Century Spring Corp.
222 East 16th Street
Los Angeles , CA 90015
Toll Free: 800.237.5225
Ph: 213.749.1466
Fx: 213.749.3802
info@centuryspring.com
Please let me know if you can't.
On all Vargas, the main gear have 2 springs each, an inner (D125) and outer one (D108). The nose gear on the Model 2150A has only the outer spring but the Model 2180 nose gear uses both. The reason for the additional spring on the Model 2180 is to insure additional ground clearance because the engine is heavier and the prop is longer.
Adding the inner spring to the 2150A nose gear won't hurt anything but I doubt that it'll make much difference unless you are landing on or taxiing over some very rough ground.
Good luck and happy flyin' ;-)
Max
From: Pat & Lee Beery
Sent: Wednesday, May 07, 2003 2:11 AM
To: Bishop , Max
Subject: Nose Gear Rebuild
Hi Max
Just finished my annual and this year I replaced the nose gear seal and o rings. Not as easy to do as the mains as some times I needed 3 hands. I did pick up on one thing I would like to hear what you think on the subject. I think now I know why the new lube seal does not retain the heavy oil. It is pushed out by air when the strut is com pressed. Because it is so hard to reach the oil service ports on the nose gear I inserted a flex hose that just fit in the port for gear lubrication and secured it at the oil cooler. When I exercised the nose gear you could easily hear the air rush in and out. With both of the 10/24 screws tight that air has only one path in and out of that cylinder and that is at the seal. What do you think. Lee
From: Max [mailto: maxbishop@gowebway. com ]
Sent: Friday, November 09, 2007 7:40 PM
To: Pat & Lee Beery
Subject: RE: Nose Gear Rebuild
Sounds like it might be a good idea to me ;-)
Let us all know if the gear leg drips less oil. Should work on the mains as well don't you think? (since I have no nose gear... ;-)
I might try just takin' the (12-24) screw out com pletely and stickin' a cigarette filter in the hole just to keep the dirt out... ;-)
Happy flyin'
Max

From: Alex Hasapis
Sent: Sunday, January 20, 2008 8:46 AM
To: Bishop , Max
Subject: flap hinges
Hi Max, Are there any service or repair bulletins for flap hinge replacement on the 2150A.
Alex
…Here is an expanded version of the reply I sent to Alex:
There are no service or repair bulletins for the flap hinge. I made a sketch awhile back showing the addition of a doubler to the inboard hinge. This is the easiest fix. Later production airplanes had an inboard flap hinge reinforcement similar to that on the inboard aileron hinge and you could duplicate that but it is a lot of extra work.
If you need new NAS40-10 hinge, here is a website may have the replacement NAS40-10 hinge that you need…
<http://www.gen-aircraft-hinges.com/>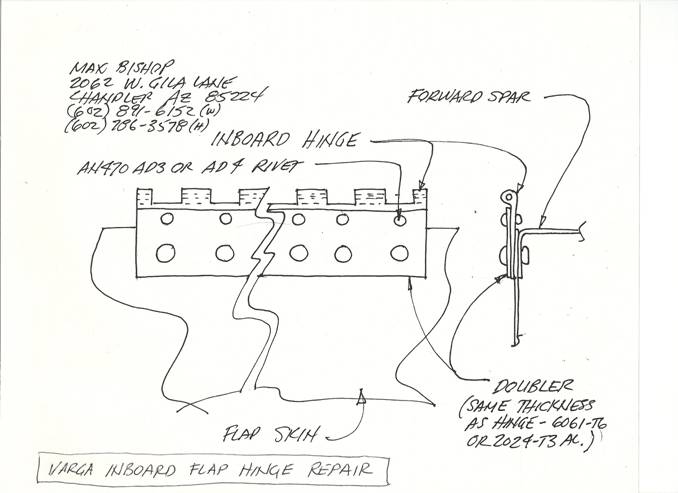 From: max schuermann

To: Pat & Lee Beery

Sent: Monday, February 25, 2008 4:45 PM

Subject: Fuel flow instrument

Was wondering if there was anyone in the group that has an Electronics International Inc., FP-5 fuel flow/pressure instrument installed in their Varga. My son gave me one for Christmas and I'm getting ready to install it. The instrument is STCd for the Varga but the paperwork leaves a lot to be desired and says absolutely nothing about line routing and transducer location. It just says "between carb and fuel supply". DUU.

If anyone has one installed I'd sure be interested in knowing where they placed the transducer and/or routed the fuel lines. Just a picture would keep me from having to reinvent the wheel.

Thanks in advance

Max Schuermann

N4614V

From: Max Bishop

…I don't have any information about fuel flow/pressure instruments installed on Vargas but will ask around…

What follows is my answer to email asking for parts for an airplane with nose gear damage…

If I wrote it down right, you asked for the following Varga parts:

1 each 12000-24 Steering Horn

1 each 12000-3 Axle

1 each 12000-97 Fiber Washer

1 each 12000-98 Washer

1 each 12000-69 Steering Rod

2 each 30145-28 Steering Boot

1 each 26025-63 Cowl Bracket

I have a pair of 12000-69 Steering Rods that I was saving for my experimental project Varga but since it will be a while until I need it, I will send one to you and make another for myself later. It'll probably cost me about 20 bucks to make another and that's what I'll ask for it but if you've got some 5/16" 4130 round bar laying around and want to thread it 5/16-24 about 1" down at each end, maybe you can make one cheaper. The factory had them Cadmium plated but that's now considered a hazardous material and it's harder to find someone to cad plate. ChemResearch, the local plater that did most of Varga's stuff, recommended electro-less nickel plating as an alternative and that's what I've been using. Good epoxy paint would probably also work very well if you don't want the plating time and expense.

I have one old 30145 Steering Boot that's badly deteriorated but they were made from rubberized asbestos fabric which is now also considered a hazardous material and I don't know if you can even get it. McMaster-Carr has some rubberized fiberglass products that should work well http://www.mcmaster.com/ . Aircraft Spruce has some cowl seal material that might work well too. http://www.aircraftspruce.com/

If one of the old Steering Boots that you have can be used as a template, you could buy some of that material and make them yourself. Once cut to shape, they assemble pretty easily with four 1/8" rivets and some back up washers.
Silicone-Coated Fiberglass Fabric

Resists oil, flames, and water. Ideal for covers, splash curtains, and heat shields. Material is woven. Max. temp. is 500° F. Color is gray (unless noted). Please specify length: 1, 3, 5, 10, 15, 20, or 25 ft.

Density,

60" Wide

Thick.

oz./sq. yd.

Per Ft.

0.017"

17

0.035"

32

0.060"

53

• Color is red.
Acrylic-Coated Fiberglass Fabric

When used on a 15° or greater incline away from the heat source, this woven fabric will shed molten splatter up to 3000° F. Max. continuous temperature is 1000° F. Color is black. Please specify length: 1, 3, 5, 10, 20, or 25 ft.

Density,

Thick.

Wd.

oz./sq. yd.

Per Ft.

0.040"

40"

21

0.040"

60"

21
I have no 12000-97 fiber washers but Aircraft Spruce has some that might work

The screw at the top of the gear is 12-24 and these are for 10-32 screws but they should still fit if you drill them or file them a tiny bit… ;-)

NAS549-10 Phenolic insulating washers for #10 screws.

Size: 13/64" I.D. x 7/16" O.D. x 1/16 thick.

I have none of the 12000-98 washers for the top of the gear that I can find. I think the washer may have been aluminum to help seal the retaining bolt and keep the hydraulic fluid in but 7/16" is a common spark plug size (7/16"-20) and a spark plug gasket that size might work as well or better. ;-)

I can find no 26025-63 Cowl Bracket either. The 26025 drawing that I have is a marked up engineering revision that doesn't list it so the part number may have changed. I can't explain that with the data that I have and don't know what the P/N changed to. I don't remember if it is steel or aluminum but if steel, it is 4130, if aluminum, it is 2024-T3. If not repairable, it should be easy to measure and duplicate in either material.

I have both a 12000-24 Steering Horn and a 12000-3 axle but they are installed on the engine mount and nose gear of my project airplane and I am reluctant to give them up.

The Steering Horn is made from stock 4130 steel tubing. You should be able to measure the diameter and wall thickness of the material, get it from a tubing supplier and remake or repair it without much difficulty. The factory TIG welded them with 4130 weld rod and stress relieved the welds to a dull red with a torch. Acetylene welding will work as well. The assembly was cadmium plated but, again, electro-less nickel, or good paint job should work well.

The axle is stock 1 ¼" 4130 as well, cut to length, threaded for an axle nut on one end, with a stop weld on the other end. Again, just measure the damaged part for diameter and wall thickness and order what you need from a tubing supplier. Plating/painting is the same issue as the other parts but on the axle, you need to remember that too much plating or painting may add thickness that won't let the axle slide through the wheel bearings…

Let me know if you have questions or comments or if I can help in some other way…

I'll wait to hear from you on the Steering Rod…

Happy flyin'

Max

DESIGN:

This is my first issue in several years but, knowing that it'll com e up again soon, I'm going to start out this issue with a discussion of that ever popular Varga topic…

"Why can't I trim nose down with someone in the back?"

Well, the answer is that you can, it's just hard to turn the handle.

A few things happened along the way from Morrisey to Varga to make it that way…

One of the things that happened along the way was a Center of Gravity (CG) shift:

Morriseys and Shinns came standard with no paint. During manufacture, the skins were protected with a thin, water soluble film so that the aluminum stayed shiny and wouldn't be scratched and, at the end of the production line, the film was washed off and a decal added to each side of the plane.

Although it was optional, we never sold a Varga without paint. That matters, at least a little, because at 17-20 pounds of dry weight for the usual polyurethane paint job, most of that weight was aft of the center of gravity (CG).

Upholstery also made a difference. Morriseys and Shinns came with only seat cushions. Varga added carpeting, to the floor and rear deck, upholstery on the front seat pan and a headliner. Again, with much of the weight aft of the CG.

Without much paint and upholstery, the typical Morrisey/Shinn empty weight was close to the advertised 1125 pounds. A typical Varga was closer to 1175 pounds, as I am implying, most of which was aft of the CG.

Another thing that happened when the plane became a Varga is that the trim handle got shorter. What I remember is that early on in Varga production, someone didn't like the potential interference between the trim handle and the front throttle in the closed position so the standard GM window crank handle was swapped for a vent window handle which was about half as long and, consequently, with half the leverage. The FAA did flight tests this change and didn't find the trim forces objectionable and that's the way things stayed.

A third reason may have to do with aerodynamics. It's only speculation on my part but it is possible that there is a difference between the Morrisey and the Shinn and when Shinn created a fixture for its installation, the horizontal stabilizer angle of incidence got changed. The Varga and Shinn should be the same because Varga Aircraft used the same stabilizer installation fixture that Shinn made. Before the fixture, Morrisey stabilizer's may have been located in position and installed by hand with a different angle measuring and locating technique.

If the angle of incidence between the wing and horizontal stabilizer was made less between the Morriisey and Shinn, that might account for an increase in nose down trim forces.

You can fix some of that problem by making a trip to an auto parts store and buying a longer trim control handle. Just look or ask for one that fits a Chevrolet. The one's I've seen look just like the one on your plane with a knob that com es in either black, white or clear. Then just take the old one off by removing the clip between the handle and side panel, slip the new one on and adjust the elevator so it is in the neutral position, remove and reinstall the new handle at the correct position for neutral trim and put the clip back on.

The only thing you have to watch out for is whether on not the trim handle hits the throttle handle in any position when the throttle is all that way back. If that's the case, you'll probably have to remove the left side panel and adjust the aft position of the throttle a little farther forward.

Regardless of which handle is installed, unless there was a problem with the trim clutch or rigging adjustments, or whether or not shims were installed at the horizontal stabilizer, I've never flown a Varga that I couldn't trim.

The Horizontal Stabilizer angle-of-incidence problem is a little trickier…

I'm not sure when or where it started but, in order to increase the incidence, someone began installing shims at the front Horizontal Stabilizer mounts.

As I noted in Newsletter #22 each 1/16" shim added to the forward stabilizer attach bracket increases its angle of incidence relative to the wing (and the rest of the airplane) by 0.28 degrees. Unless readjusted, the shim also increases the elevator travel by about the same amount. If you add a 1/4" shim without readjusting the elevator, you will increase elevator travel by more than one degree (1.12). This may improve control at the forward CG limit, will possibly reduce the force needed to turn the trim handle and, in some cases, owners have reported increases in top speed. Alternatively, it may make the stall more abrupt and make an inadvertent spin entry more likely when the airplane is loaded at or near the aft CG limit.

Another option is to make the center of gravity (CG) shift forward. This is the most difficult (expensive ;-) solution…

On the airplane I designed in Montana, for more leg room, I stretched the fuselage forward 3" and back 1.25". This was the maximum stretch I could easily make to keep the new plane within it's old CG limits.

This moved the engine forward 3" and moved the most forward CG loading close to it's 10.4" limit (of a 10.4" to 17.5" range). Moving the normal "most forward CG" ahead also broadened the CG range in the sense that it allowed heavier loads to be installed farther aft before the aft CG limit was exceeded (heavier people ;-).

Adding 2 or so inches to the engine mount and cowl of a standard Varga would not be physically too difficult or expensive but the engineering and FAA flight test requirements would probably make an STC for the stretch cost prohibitive. With only a hundred or so airplanes out there, there probably wouldn't be enough buyers of such a change to spread the cost enough to make that change affordable.

PERSONAL NOTES:

I will provide the VG21 Newsletter on this web site and will expand and improve the it as time and circumstances permit.

Hopefully, I will be able to publish at least four issues a year. For those who request it, I will also email a copy of the email in a Microsoft Word format. Those on the membership list who have not provided an email address or who just wish to have a hard copy, will receive a hardcopy of the newsletter in the mail shortly after they are posted here on this web site. Maintenance Items may be done on separate schedule as needed or as provided by Varga owners and will be mailed either with, or independently of, the newsletter, upon request.

Please don't hesitate to provide suggestions or corrections at any time.

maxbishop@gowebay.com or mbishop5@cox.net